Kyle, one of our Junior Staff members and a high school Senior, wrote a scholarship essay on More to Life and its affect on his character and future plans. We are excited to share this essay with you!
"You stand tall young man. Be grateful for every inch of your height that God has given you."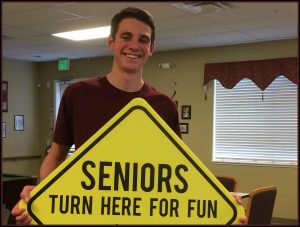 The first time I heard these words, I was volunteering at a facility for elderly people with dementia and Alzheimer's. The speaker, a kindly woman named Patricia, continued to exhort me to be kind to everyone I met and always look for opportunities to help others. I was surprised when I came back the next day and was immediately assailed by the same speech. She told me once again about mankind's basic goodness and the need to show kindness towards others.
I eventually began working at the care center, helping meet the physical and psychological needs of Patricia and roughly 40 other dependent adults, all with some mental illness. As Patricia eventually began to recognize me, her speech ended. But what did not end was the unconditional love I always felt from the clients. I always felt accepted and cared for whenever I was there.
My passion is scientific research. I love to explore and discover, and I love what I've learned in High School about the human body and mind. However, it was not until working at the center that I identified what I want to contribute to society. I want to research disease, and in doing so help the people that have become some of my closest friends. I want to help families ravaged by memory loss and decreasing motor skills to stay together. And that is why I want … to give back to those who have taught me to stand tall. ~ Kyle